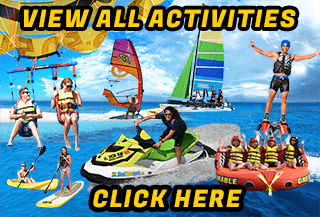 Miami Jetski Policies
Refund/ cancellation Policy
Miami Jetski does not issue any refunds; however, credits will be kept and do not expire. Purchaser will also have the possibility to use this credit towards any other watersports activities that we offer.
We ask all of our customers to check-in 15 minutes before the departure time. If you arrive late and miss the departure time, your booking will then be considered as a "no show". In this case, we will try our best to fit you in a later time that day upon availability. However, understand that we have a daily schedule, and if we are unable to find you a spot at a later time, rescheduling your booking to another day will be the only option.
Weather policy
Our certified staff members are the ones who will decide whether it is safe to operate the activity. They are constantly monitoring weather channels/radar apps and using their professional knowledge on whether they will perform the activity following the industry's regulations in safe operation.
We reserve the right to reschedule upon weather conditions.
If the weather is not permitting to go out on the water, customers will be issued a credit/voucher. Vouchers do not expire and may be used towards any other activity that we offer or be given to a friend or relative. Transferable vouchers will need to be approved by management which can simply be done by email. Vouchers will need to physically be present to be redeemed.
As mentioned above, our company has a strict "no refund policy" and will respect its policy.
For any additional questions or specific request, please email us at [email protected].
Reservations Vs Walk-ins
Reservations can be done online or over the phone. If you do not want to wait but rather have a secured spot, reservations are the way to go! Once you have an activity reserved with us, your spot is guaranteed.
For large groups, reservations are highly recommended. Reservation will guarantee that you will not be split and be able to do each activity together as a group. We accept walk-ins as well; however, they might have to wait for the next available spots and will most likely be divided into smaller groups.
Walk-ins are meant for spontaneous thrill seekers! Whether you have planned a last-minute trip to Miami and did not have time to plan out your daily activities; or simply woke up feeling amazing and wanting to go have some fun on the water, we got you covered!
Miami Jetski is one of the few companies to be able to accept last minute walk-ups. Although you will not have as high of a priority compare to having reservation done ahead of time, we will make sure to serve you on the same day! We have a large staff and enough equipment to be able to accept a high volume of customers promptly. If you are bored and looking to have a great time, give us a call and we will make it work!
Waiting Time
Miami watersports is open 7 days a week from 10 am until Sunset, all year long, upon weather conditions. We have daily departures for all activities every 30 – 60 minutes. Our large inventory of equipment and staff allows us to handle a high volume of customers daily.
We do our best to serve our demand promptly. However, we are in the water sports industry and unlike train stations, due to weather or equipment malfunction delays in departures may occur. We hope participants can understand that part of the industry. Both online bookings and walk-ins must be aware that delays may affect their departure time, please add some flexibility into your schedule when participating in our activities. Like any other watersports company, delays may occur, and refunds will have the same regulations as explained in our Refund/Cancellation Policy.
Price Match
Miami Jetski is proud of being able to offer the best water sport activities at an affordable price. Our pricing is on the low side compared to other companies in Miami. That is why we are ready to price match any other deals that may be found in order for us to keep our honor in being the most affordable year-round water sports company in South Florida!
Here are the restrictions for us to price match:
Must show original proof of competitor's "deal" upon check-in.
Competitor's "deal" proof must include company name; activity option; duration; departure time; total price; deal fine prints and any other important information.
Must be able to successfully communicate with competitor if necessary.
Must be located in Miami, Florida.
Must be for the same activity/option.
Must be available on that same day/time that customer is trying to book for.
Valid for walk-ins only. First come first serve.
Valid for any online deals, including Groupon or similar discount sites.
Paddleboards, Kayaks, and Eclipse are the only activities that we do not price match.
Payment
We accept all types of payment methods EXCEPT:
American Express is not accepted for any purchase done at our location.
Apple pay/ apple card is not accepted.
Cardholder must be present at check-in with the card used at purchase along with a valid matching picture ID (driver's license or passport). Those documents must be physically presented at check-in or booking will not be redeemable. Otherwise, we will need to receive a different form of payment, in order to provide a full refund towards the original cardholder.
Payers will be required to complete a payment authorization form prior to participating in any activities, card and photo ID will be kept on file. Payers will also be required to fill a completion invoice in acknowledgement that services were provided as described and activities were completed successfully.
Miami Jetski Policies
General For All Activities
Valid driving license or passport at check-in.
Amex is not accepted as payment method for walk-ins.
Must bring card with matching ID used for payment.
All participants must sign waiver at check-in, parent or guardian must sign the waiver for minor.
Medical conditions should be taken into consideration prior.
Drugs or alcohol is not permitted during or prior to activity.
All safety gear is provided.
No experience or qualifications required.
Swimming skills are not required as long as participant is comfortable in the water and does not panic.
Read our "General Policy" and main activity page for additional information.
Parasail
Double and triple flights are available.
Single flyers may be paired with other flyers for weight requirements.
Flyers will always get priority over spectator, no matter the reservation.
Maximum 450-pounds per flight.
Minimum 5-years old to fly.
Premium height/ flight time 7-12min.
Total boat excursion can take up to an hour.
Participants must be able to tell the captain their weight in pounds before the flight.
Call us to know about the additional fuel/service fees.
Getting dipped in the water is optional.
Jet Ski
Maximum one rider per ski.
Maximum 250-pounds per Jet Ski.
16 years old minimum to drive.
Drivers born after Jan 1, 1988 must pass a boat exam. usually takes about 10-15mins to complete. Very simple.
$250 refundable damage deposit per Jet Ski, it can be payed cash or card. If payed in card, banks may take up to ten days to process the refund.
30-min sessions only, 1-hour will be split into two 30-min sessions.
Riding in a large ride zone. This is a freeride, not a tour.
Flyboard
13-years old minimum to participate.
Knowing how to swim is not required.
Call us to know about the additional fuel/service fees.
Advanced tricks such as "backflips" are not permitted.
Tubing
3-years old minimum to participate
Up to 4 riders per tube at a time.
15-20min session
Call us to know about the additional fuel/service fees.
Will not fall off the tube.
Paddle Sports
3-years old minimum to participate.
Paddle on your own without a guide.
Equipment must be returned 30-min prior to sunset
Free hour rental for every large bag of trash collected during the trip.
It is recommended to bring a personal phone to call us if needed.
Customer is responsible to bring equipment back to departure point.
Hobie Cat & Windsurf
Sail on your own without a guide. Lessons available.
5 years old minimum to participate
Boats must be returned 30-min prior to sunset
Customer is responsible to bring equipment back to departure point.
It is recommended to bring a personal phone to call us if needed.
May not pass under any bridge or go on the ocean side
Windsurf Rescues: Our club is not responsible for making rescues. Our staff will do their best to assist you in case of distress, however, the customer is held responsible for returning to the departure point. We recommend riders to stay close to shore to make rescues easier and quicker.